C O N T R O L / A N A R C H Y
---
---
---
---
THE COVERT WAR AGAINST ROCK
By Alex Constantine
How government, organized crime and the music biz intermingle.
Feral House $14.95 178 pgs.
---
THE REVOLUTION
By R. U. Sirius
Quotations From the Party Chairman. Start the Revolution now! Small little pocket size red book with a big message!
Feral House $12.95 171 pgs.
---
PSYCHIC DICTATORSHIP IN THE U. S. A.
By Alex Constantine
Bombing minds not bodies is the warfare of the new millennium.
Feral House $12.95 221 pgs. Illustrated
---
SNITCH CULTURE
By Jim Redden
How Citizens are Turned into the Eyes and Ears of the State
Welcome to the SNITCH CULTURE, a surveillance society far more insidious and pervasive than anything George Orwell ever imagined. Elected officials from both political parties have spent decades building a vast domestic intelligence network to track every man, woman and child. The corporate media has supported these efforts, generating waves of public hysteria which have turned American citizens against one another and helped recruit a growing army of snitches.
Unscrupulous law enforcement officials have used these informants to compile millions of files filled with unfounded rumors and hearsay. Bureaucrats have pushed their snitches beyond legal and moral limits, with politically-motivated private operatives picking up the slack. Over the past 30 years, informants have fueled such well-documented, massive government surveilance operations as the Ghetto Informant Program, also the FBI's infamous Counter-Intelligence Program (COINTELPRO) and Project Megiddo, which incorrectly predicted a wave of domestic terrorism at the beginning of the New Millennium.
Once everyone was looking for their "15 minutes of fame" - in the New Millennium everyone will be looking for their "15 minutes of privacy."
Feral House $14.95 320 pgs.
---
SPIES, TRAITORS AND MOLES
By Peter Cross
Covert actions have influenced this nations quest for international Superiority and continue to this day. Now, a new book describes in detail this secret side of American history in an interesting and entertaining way.
IllumiNet Press $14.95 246 pgs.
---
UNDERGROUND BASES AND TUNNELS
By Richard Sauder , Ph. D.
What is the Government Trying to Hide?
Go behind the scenes into little-known corners of the public record and discover how corporate America has worked hand-in-glove with the Pentagon for decades - dreaming about, planning and actually constructing secret underground bases.
"A must read for students of conspiracy, technology suppression, UFOs and the New World Order. Invaluable to researchers and investigators into the covert machinations of the Secret Government." -- David Hatcher Childress author of Man Made UFOs etc..
"This is a disturbing and important book, revealing a massive level of secret underground engineering activity on the part of the federal government. Why? And above all, why the compulsive, paranoid secrecy on the part of the federal monolith? The public deserves to know why its hard-earned money is being lavished on these strange, highly secret projects." -- Whitley Strieber author of Communion
Adventures Unlimited Press $15.95 Illustrated 142 pgs.
---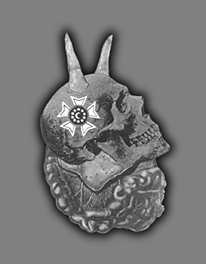 Amok Books/Fifth Dispatch • Sleaze • Neuropolitics • Parallax • Orgone
Sensory Deprivation • Mayhem • Natas • Control/Anarchy • R & D • Exotica
Mags • Videos • Music • Order • Contact