S L E A Z E
---
---
---
---
ACKERMANTHOLOGY!
Compiled by Forrest J. Ackerman 65 Astonishing Sci-Fi Short Stories
When a man has read, written, edited and lived science fiction for a full 70 years, as Forrest J. Ackerman has, his collection of sci-fi shorts is certain to contribute to the pleasure of the connoisseur, and delight the newcomer to modern literature's hottest field. Herein are timeless tales of aliens, robots, spacemen, future societies, extraordinary experiments, intergalactic love and other dimensions - written with the humor, the horror, and suspense developed by the undisputed geniuses of the twist in the tale, from Asimov, Bradbury and Wells to lesser-known masters of the trade. 65 short sci-fi tales.
General Publishing Group · $12.95 · 304 pgs. · Sci-Fi/Fantasy/Horror
---
KRAFTWERK
By Pascal Bussy
Man, Machine and Music
Pascal Bussy has written a uniquely definitive account of Kraftwerk's history, delving beyond their publicity shunning exterior. Former group members and collaborators have broken their usual silence, providing an in-depth examination into their working methods and complex technological imagery. For the first time the intense mythology that has built up around this hugely influential group is uncovered. This is the best book on the subject of Kraftwerk period.
SAF Publishing · $24.95 · 192 pgs. · Illustrated
---
LORDS OF CHAOS
By Michael Moynihan & Didrik Soderlind
The Bloody Rise of the Satanic Metal Underground
Just before the turn of the millennium, nearly 100 churches have been torched and desecrated by adherents of Black Metal, the most extreme form of underground music on the planet.
In an escalating unholy war, Black Metal bands and their obsessive fans have left a grim legacy of suicide, murder and terrorism spreading from Norway to Germany, Russia, America and beyond...
LORDS OF CHAOS features hundreds of rare photos and exclusive interrogations with priests, police officers, Satanists and leaders of demonic bands who believe the greater evil spawns the greatest glory.
"... paints a portrait of a fantastic realm where Satanism, neo-paganism and National Socialism energized a musical scene in which fantasy was actualized in the burning of churches in Norway..." - Jeffrey Kaplan
Feral House · $16.95 · 358 pgs. · Illustrated
---
SWIMMING UNDERGROUND: My Years in the Warhol Factory
By Mary Woronov
"Mary Woronov burned herself into my brain when, as a college student in 1966, I first saw her smoldering, imperious performance in Andy Warhol's epic film, CHELSEA GIRLS. She was one of the most original, stylish and articulate sexual personae of the royal House of Warhol. I never forgot her, and I followed her subsequent movie career with great fascination. Mary Woronov's memoir of the Warhol years is an important contribution to the historical record of a hugely influential movement in modern American art and culture. Many years later, it can be clearly seen that the Warhol Factory, with all its riveting decadent excesses, was as seminal an avant-garde circle as that of the Dadaists and Surrealists." - Camille Paglia
Journey Editions · $19.95 · 230 pgs. · Illustrated · Hardcover
---
---
EVGUENIE SOKOLOV
By Serge Gainsbourg
A Parabolic Tale
Serge Gainsbourg is one of the world's great eccentrics. His kinky obsessions, smothering fashion with tastelessness have catapulted him into super stardom in France.
"This is his only novel and you have never read anything like it - it will make you squirm. It will make you laugh. It may also very well make you sick. Gainsbourg's vision is his own: authentic and convulsive. Don't forget to hold your nose." - John Zorn
A rousing tale about a man with a gas problem - farting - he makes the best of his situation. Afterword by Russell Mael from the band SPARKS where he mentions an interview with Gainsbourg and what he says about Whitney Houston.
Tam Tam Books · $15.00 · 84 pgs. · Novel
---
A COLD FIRE BURNING
By Nathan Heard
A COLD FIRE BURNING powerfully depicts an interracial love story set amidst the political changes of the early Seventies. Shadow is a working-class black man in the ghetto of Newark, New Jersey. A highly charged affair with Terri, a liberal white woman who works at a storefront drug rehab center, begins to throw his sense of the world into turmoil.
When the racial and sexual tensions of their relationship reach the boiling point, Shadow rejects Terri and he winds up the leader of a rag-tag band of black nationalist urban guerrillas. Tragedy ensues when Shadow tries to transform their revolutionary rhetoric into reality.
AMOK Books · $10.95 · 151 pgs. · Novel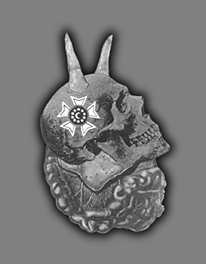 Amok Books/Fifth Dispatch • Sleaze • Neuropolitics • Parallax • Orgone
Sensory Deprivation • Mayhem • Natas • Control/Anarchy • R & D • Exotica
Mags • Videos • Music • Order • Contact